Light Design / november 2016
Isabelle Schad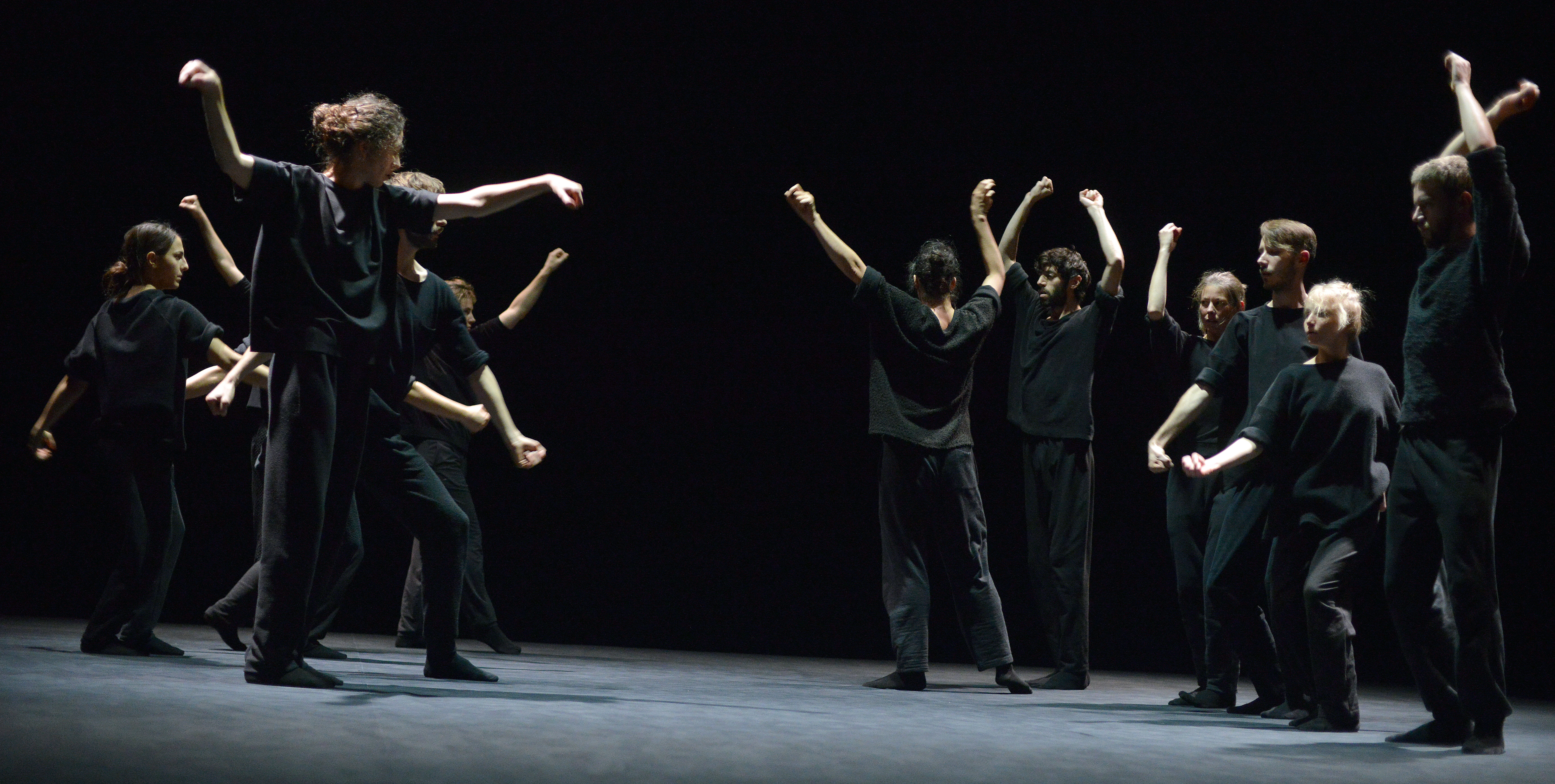 In the new work 

Pieces

and

Elements

 a group of performers negotiates the collective body in motion that can only function as a whole. This body with its different parts and multiple connections serves as a possible reflection of nature where each

element

is in relation to all the others in order for the whole to exist.
Pieces

and

Elements

 deals with the fluid borderlines between a scientific, biological, cellular approach to the body and the one seeing the human body in relation to the cycle of nature and the five

elements

: water, wood, fire, earth and metal. It places itself between a western and an eastern point of view, between visual arts and the performing arts, between installation and choreographic miniatures. After 

Collective Jumps

, the first part of the trilogy on collective bodies, which investigates the body as a site for forming community, 

Pieces

and

Elements

 

considers the phases of change and nature as possible energetic means for becoming one: as body, as self or as a group.
In her recently premiered work 

Solo for Lea

, Schad deals with a single figure as a portrait. 

Pieces

and

Elements

 draws on that experience, and focuses on the collective body as cubistic landscape, which can be considered at once as a space of transformation and as the event itself. We are approaching an oscillation between organism, apparatus and hybrid matter, between experience and sensuality, between utopia and reality.
Concept & Choreography: Isabelle Schad
Co-Choreographie & Performance:
Jozefien Beckers, Barbara Berti, 

Frederike Doffin, 

Naïma Ferré, Josephine Findeisen, Przemek Kaminski, Mathis Kleinschnittger, Manuel Lindner, Adi Shildan, Claudia Tomasi, Nir Vidan

, Natalia Wilk
Theoretical advice: Susanne Foellmer
Dramaturgical advice: Saša Božić
Artistic assistance: Claudia Tomasi
Lightdesign: Mehdi Toutain-Lopez
Sound: Damir Simunovic
Costumes: Charlotte Pistorius
Costume Assistance: 
Maja 
Svart
åker
Assistance: Angela Millano
Production management: Heiko Schramm
Made possible by a long-term
 collaboration w
ith Laurent Goldring.
Production: Isabelle Schad
Coproduction: HAU Hebbel am Ufer
Funded by Hauptstadtkulturfonds and Regierender Bürgermeister Berlin – Senatskanzlei – Kulturelle Angelegenheiten
In Cooperation with Hochschulübergreifendes Zentrum Tanz Berlin (HZT)
Supported by "Artists in Residence Programm der fabrik Potsdam" and Wiesen55e.V.
All Photos on this page : © Gerhard F.Walter